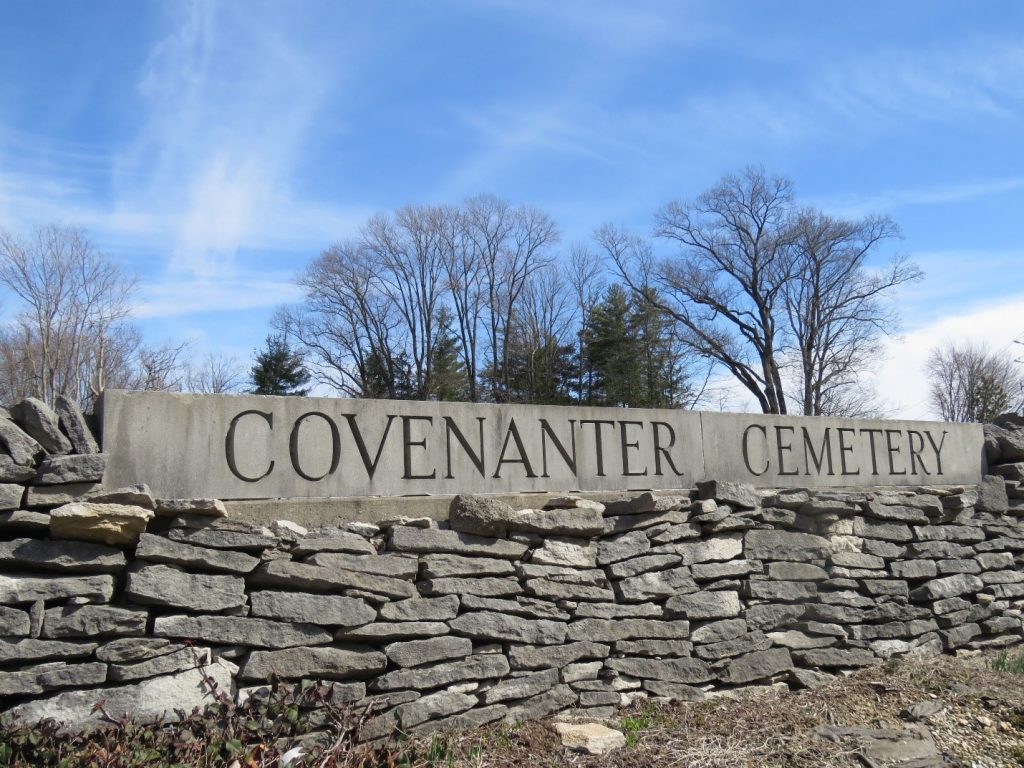 Scripture gives multiple images for the church. We are the body of Christ; we are a flock; we are an army. We are a family and a people, with members from every tribe and nation who will someday gather together around Christ's throne.
Every member is needed in an army, a flock, or a family, and every part in a body. And Scripture makes clear that the church of God includes not just the living, but those who have died in Christ. They do not sleep, but with us they eagerly await Christ's return and the consummation. The Bible presents them as witnesses to our faith, as cheering onlookers to our race.
Church cemeteries used to be common. Members walked into the building to worship, and as they did so they walked past the stones chiseled by hand with the names of those with whom they had once worshiped bodily, past the names of one's ancestors in the faith and one's blood kin.
The body at Bloomington still has a cemetery, but it was put beside our first building, and we do not walk past its stones to enter our current building. But it is still sobering and humbling to walk among them. In the Covenanter Cemetery one will find names known and unknown, of people whose stories included suffering and joy, like ours, and people whose stories included triumph against sin and defeat, like ours. Buried here are some 420 people (with room for another 340) like us, who were bought with the blood of the Son of God. Believers who are buried there now walk by sight and no longer by faith.
In the Covenanter Cemetery, which first started taking burials around 1832 as far as we can tell, we find tombstones for the Farises (including the grave of our first pastor, James Faris), the Moores, the Currys, the Smiths, the Latimers, the Ramseys, the Cathcarts, and the Woodburns. We find babies who never made it alive out of the womb and old men who lived to fourscore and beyond. We have men and women with doctorates, a measure of fame, and comfortable life circumstances. And we will even see tombs of at least two men born into slavery, but whose highest loyalty was to Christ, and who chose in freedom to be our brothers and worship Christ with us.
So let's take a visual tour, look at a few of those markers by the graves of brothers and sisters who have gone before. And when you get a chance, drive over and walk through it, and be reminded that the church is deeper than this generation or those who are alive right now.
C. S. Lewis spoke of the chronological snobbery of giving heed only to those who happen to be alive and speaking today, of how easily we begin to think that our own age is smarter and kinder and has more worthwhile information to say to us. But we worship a God of the living and practice a faith that will survive our bodily death. For two thousand years the resurrection of Jesus Christ has given His saints hope in times of persecution and sorrow, joy in times of celebration, repentance when we have gotten distracted by the world and its lesser offerings.
A City of Bloomington report says, "In the Covenanter Cemetery, some of Bloomington's earliest uses of limestone and stone carving can still be seen. A wall, constructed of fieldstone without mortar, surrounds the plot and gravestones are simply carved in traditional styles and motifs. Later in the century, stonecarvers applied their imaginations and skills to the creation of gravestones in more complex and artistic designs."
Warren Roberts wrote: "Some of the earliest gravestones in the Covenanter Cemetery state that the memorialized person was born either in one of the Irish counties where many Scotch-Irish people lived or in South Carolina. As a further example, according to the 1880 census, Thomas Smith, a prominent Reformed Presbyterian, was born in South Carolina in 1804. His father was born in Ireland and his mother in South Carolina. He bought a large tract of land, 160 acres, from the government on October 1, 1827. This acreage included the land on which the Reformed Presbyterian Church building was located until 1877 and on which the cemetery still is." (Roberts, "Underground Railroad in Monroe County")
Walking in the cemetery can remind us of our own temporal life, and our place of connection with Christ's body in Bloomington and beyond.