The Bloomington Reformed Presbyterian Church and the Underground Railroad
Today we have grown familiar with virtual meetings and church services. So perhaps it shouldn't be odd to think of a railroad without train cars or a track. Two hundred years ago the Underground Railroad, which took escaped slaves to freedom in the north, ran through Indiana. It included a route through Bloomington. As the Bloomington Reformed Presbyterian Church celebrates its October bicentennial this year, part of the history we are celebrating is the small role the church played in the Underground Railroad.
The Reformed Presbyterian (RP) denomination took a deliberate anti-slavery stance as soon as the issue was on the table. To Reformed Presbyterians, it has always been clear that all people are made in the image of God and thus ought to be treated with dignity and respect. In 1800 an RP pastor, Alexander McLeod, turned down a call to pastor churches in New York because some church members owned slaves. McLeod wrote an article, "Negro Slavery Unjustifiable," in 1802. He made a strong case that American slavery was kidnapping, and thus contrary to Scripture, and he further made the case for sympathy for those in chains.
The matter of slaveholding church members went to Presbytery, which decided unanimously that "no slaveholder should be allowed the communion of the Church." Pastors James McKinney and Samuel B. Wylie were then sent around to RP churches, including those in South Carolina, with the decision that Covenanters must either emancipate their slaves or be refused the communion of the church.
The church also decided that the Fugitive Slave Law was unjust and contrary to Scripture. Not only did the church's members refuse to obey it, but cities with RP churches became known as good places for escaping slaves to flee.
Because South Carolina was very friendly to slaveowners and hostile to abolitionists, RPs from South Carolina moved north in the 1820s and 1830s to Ohio, Indiana, and Illinois. The RP church in Bloomington began with a small group that moved from Chester District and Rocky Creek, South Carolina, largely to get away from slavery.
The Underground Railroad Goes Through Monroe County
According to Warren E. Roberts in "The Underground Railroad in Monroe County," the 1850 census found 874 white people and five black people in Bloomington. Slavery was never legal in Indiana, but various laws including the Fugitive Slave Act of 1850 made it illegal to help runaway slaves even in free states. Because rewards were offered for slaves' return, and steep penalties were attached to helping them, the Underground Railroad was dangerous and costly work. Roberts says that Bloomington had at least five slave catchers who worked to return escaped slaves to Louisville.
For Bloomington members of the RP church, loving one's fellow humans meant taking the legal, financial, and physical risks to run stations on the Underground Railroad to help escaped slaves to freedom.
Of course the Underground Railroad didn't punch tickets and it didn't advertise its routes and schedules, or keep records of them. But several local houses, and their families, have been linked to it. One of those houses is the Faris House, the home of the first pastor of BRPC, James Faris. Others connected to the church were as well.
The Thomas Smith House was constructed in the late 1820s and it too, like nearby Faris House, is associated with the Underground Railway. The house is of immense architectural value because barely a handful of houses from this era remain in the entire county. The frame part of the house is an addition; the brickwork is original and the bricks were dug on-site, as with the other houses. It was Thomas Smith who donated part of his extensive farm to provide land for the Covenanter Cemetery and the church that used to stand next to it. ("Bloomington's Old Presbyterian Farmhouses," April 19, 2014)
Henry Lester Smith, professor at Indiana University in the early twentieth century and a member of BRPC, wrote that most of Monroe county was "luke-warm" about the subject of escaping slaves, and "weren't actively engaged one way or the other." He said that the RPs who aided the slaves did so for "a religious motive," which "accounts for the persistency with which they carried on their work and for the risks they ran in performing what they considered their duty." He said elder Thomas Smith and neighbor James Clark were "leaders in the movement from the very beginning" and named several others who took active part, including Pastor James Faris, John Blair, and Samuel and William Curry. (Quotes from Henry Lester Smith, "The Underground Railroad in Monroe County," Indiana Magazine of History, vol. 13, September 1917, pp. 288–97.)
South of Bloomington, RPs in Walnut Ridge also helped slaves to escape; these RPS included J. J. McClurkin, the pastor in the 1840s. North of Bloomington, Quakers at Mooresville aided the escapees. When RPs moved to Morgantown, that became a stop between Bloomington and Mooresville; John Cathcart was one of the ones who helped there, and James Kelso helped with transportation of fleeing slaves. Some fed or hid escaping slaves, and others transported them.
Pastor James Faris once bought a slave, Isaac, in order to free him. The Crassen family was also willed to Faris "by a man in South Carolina who wanted to free them, but could not because of the South Carolina law. Mr. Faris brought this family of five or six to Indiana and freed them here. For several years after they were freed, Mr. Faris held himself responsible for them and looked after their welfare" (Smith, 292).
Smith wrote, "Among the white families with which runaway negroes usually stayed in this community were those of Thomas Smith, Robert Ewing, and John Blair (and Mrs. Myrears, colored)." At one time a country road passed to the north (in front) of the church and south of the Smith farm (Roberts). Smith said the Farises' house was used less often because their house was "directly on the road" (294–95).
Several Former Slaves
Of course history is not just facts and dates. It's the story of people. And this particular story, where BRPC intersects with the Underground Railroad and race relations, includes the life stories of several people born into slavery but freed in Christ and freed in body, too. They and/or their family were members of our church. This is the story of a husband and wife who were both slaves and a man who had been a slave who married a woman who was rumored to have been involved in the Underground Railroad. We have newspaper reports of their lives, and their obituaries, and we have their graves in the Covenanter Cemetery.
This is not about what the Bloomington Presbyterian Reformed Church did right. This is a story of God's grace in the lives of our spiritual ancestors—including some who were born in chains.
Some of the details are murky, but written records survive. Robert Anderson and his wife, Minnie, were both born in slavery. She was owned by a Christian family, says she was treated well and never sold, but her husband was sold twice and wasn't treated as well. He had an article published in more than one newspaper about his slavery days in Kentucky. By some accounts he was freed after Lincoln's Emancipation Proclamation in 1863.
Roberts recorded,
Written data about Robert Anderson which could be located are as follows: while not listed in the earlier federal censuses covering Monroe County, he does appear in the 1880 census. He had been born in 1852 in Kentucky. The parents of both Robert and Josephine were all born in Kentucky. Robert and Josephine's oldest son, Lelah, was five years old and had been born in Indiana, so the Andersons had moved to Indiana by 1875. Robert was said to have been a farmer. All members of the family are listed as mulattoes. Robert died in Bloomington on June 2, 1929, but the date of Josephine's death was not located. Robert's second wife, Minnie, was considerably younger than he was. [This seems not to be accurate.] She died in Selma, Alabama. . . .
There is a granite monument in the Covenanter Cemetery in memory of five children born to Robert and Josephine. These are Ida L., 1874–1881; Bessie, 1888–1888; Carl and Charles, twins, 1889–1890; and Vannie, 1878–1897. According to the 1900 federal census, the following children were living with their parents that year: Anna B., born 1887; James W., born 1881; and David D., born 1886. There was also a son, Robert Allen Anderson, 1883–1958, who is now at rest in the Cemetery. His daughter, Ruth Anderson Carter, lives adjacent to the Cemetery with her husband, Clay, on High Street. There is on file in the Recorder's Office at the Monroe County Courthouse a deed by which the trustees of the Reformed Presbyterian Church of Bloomington "Convey and warrant to Robert Anderson for the sum of Twenty-Five Dollars the following Real Estate." The piece of land is described in legal terms. It mentions the "Meeting House Lot" and stipulates that it excludes "Nine (9) Rods wide off the South End of Said Described Tract of Land for an addition to the Grave Yard." There is no doubt that this is the property owned by the Anderson-Carter family. The deed is dated January 4, 1880 and is recorded in Book 11, page 87 in the Recorder's Office at the Monroe County Courthouse. (p. 5)
Mr. Anderson made his way to Bloomington, a free man already, where he was befriended by the BRPC and became a member. He did odd jobs for the church, farmed, and trained horses. He bought the two-and-a-half acres next to the cemetery, on which the first church building had stood, from the church, making payments to buy it. Jared (Scott Carter) Jeffries, the 6'11" great-great grandson of Bob Anderson, played IU basketball and was picked first round NBA draft, 11th overall, in 2002.
The BRPC history also intersects with the family of Henry and Hannah McCaw. Several of their family are buried in the Covenanter Cemetery, including Henry and Hannah, a son who died at a few months of age, and Elizabeth (Lizzie) Breckenridge, Hannah's daughter. Lizzie Breckenridge was a member of BRPC.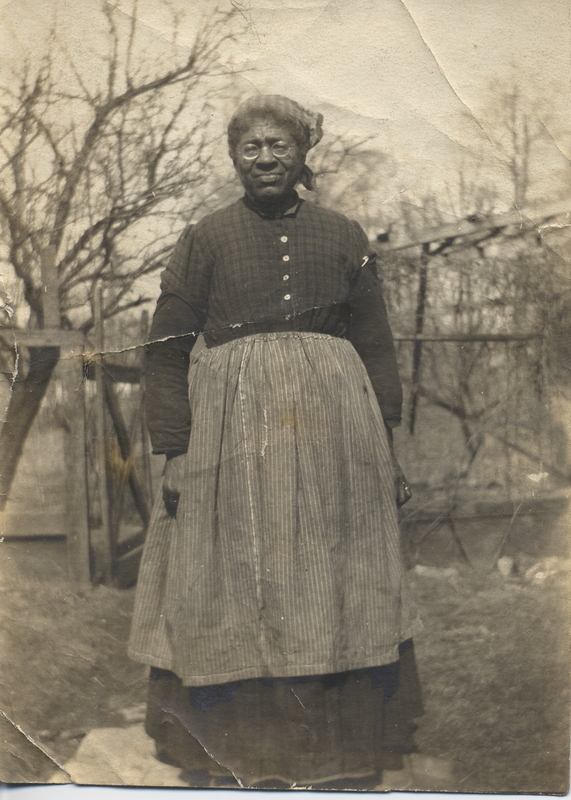 The McCaw family has deep connections to Bloomington. The Monroe County Library sponsored a talk, "What About Hannah?" about Hannah McCaw on March 26, 2019; the video is available online. Hannah's grandson, Willis O. Tyler, won an oratorical contest, and the February 9, 1901 Indianapolis Recorder reported, "His grandmother was Mrs. Hannah McCaw, who was for many years, deeply interested in 'The Underground Railway' and had charge of the station at Bloomington and assisted very materially in the work in many ways."
Hannah married two or three times; her final husband was Henry McCaw, a black farmer who was born in slavery in South Carolina, but who was a property owner in Bloomington in 1856, section 36, down the street from the first pastor of BRPC, James Faris. The Bloomington Telephone of August 18, 1883 also recorded, "Hannah McCaw (colored) has purchased the house on corner of 8th and Grant St, of W. M. Alexander, for $600." Henry and Hannah share a monument in the Covenanter Cemetery.
Racial and Ethnic Relations within Christ's Body
After the Civil War, the nation had choices to make—and former slaves to accept as citizens with full rights. But those newly freed slaves had little of their own except a single name; most didn't even have a last name, property of any sort, or an education. To be ready to live as free citizens, they needed more than a name and the clothes they wore.
Healthy race relations must go farther than being opposed to slavery. RPs were serious about outreach and ministry, from missions churches among Chinese immigrants and American Indians to schools among freed slaves who had been denied education. From the earliest years Christian love included welcoming people of various ethnicities into membership in our churches and as students in our seminaries. As I have looked through magazines and books recording RP history, I have often seen churches ministering to Chinese nationals and other ethnic minorities, and surnames reflecting those ethnicities included among the lists of elders.
The Lord's Supper used to be served with a common cup, a practice that has now changed. But one argument for keeping it caught my attention: the common cup was a strong statement of racial solidarity. It is one thing to worship with a brother or sister from a different background and to share a meal together. Sharing a cup? That is a strong statement of brotherly love indeed.
Missions and mercy work at home included schools for slaves and children of freed slaves. The Synod of 1862 met in Allegheny, Pennsylvania. "The Domestic Mission Board established Mission Schools among the freedmen in several localities in the South, and several missionaries were sent out to Port Royal, South Carolina, and other vicinities where the way was open for mission work" (W. M. Glasgow, History of the Reformed Presbyterian Church in America [orig. pub. Baltimore: Hill & Harver, 1888; rept. Grand Rapids: Reformation Heritage Books, 2007], 127). Similarly, the 1865 Synod in Utica, Ohio, saw the need to reopen Geneva Hall, the RP college in Beaver Falls, Pennsylvania, to educate newly freed slaves as well as other students.
We don't face the same questions our ancestors did, but sometimes we too are forced to choose whether we really believe that all members of the body of Christ are of equal value in His eyes. In the twenty-first century we need to pursue new ways to recognize what a blessing it is that God has made His people in so many varieties with different backgrounds and different gifts, and that He has given us the ability to learn to love one another well.
Sources:
Anton T. Boisen, "Divided Protestantism in a Midwest County: A Study in the Natural History of Organized Religion," The Journal of Religion, Vol. 20, No. 4 (Oct. 1940), 359–81. https://links.jstor.org/sici?sici=0022-4189%28194010%2920%3A4%3C359%3ADPIAMC%3E2.0.CO%3B2-7
W. M. Glasgow, History of the Reformed Presbyterian Church in America (orig. pub. Baltimore: Hill & Harver, 1888; rept. Grand Rapids: Reformation Heritage Books, 2007).
Daniel Ritchie, "Radical Orthodoxy: Irish Covenanters and American Slavery, circa 1830–1865," Church History, vol. 82, issue 4, December 2013, pp. 812–47, https://www.cambridge.org/core/journals/church-history/article/abs/radical-orthodoxy-irish-covenanters-and-american-slavery-circa-18301865/D9F62AE7BF67992995DA1C012466322E
Alexander McLeod, Negro Slavery Unjustifiable: A Discourse (T & J Swords, 1802). Available digitally at https://www.covenanter.org/reformed/2015/8/14/alexander-mcleods-sermon-on-negro-slavery-unjustifiable
Warren E. Roberts, "The Underground Railroad in Monroe County."
Henry Lester Smith, "The Underground Railroad in Monroe County," Indiana Magazine of History, vol. 13, September 1917, pp. 288–97.
Timeline https://www.heraldbulletin.com/news/historical-timeline-of-slavery-in-indiana/article_c23afd0e-44bc-11ea-a869-03f85fa74e58.html
Letter from ex-slave, as published in Bedford Daily Mail Newspaper Archives March 9, 1922 Page 1.
"Bloomington's Old Presbyterian Farmhouses," April 19, 2014.
"What About Hannah?" Christine Friesel, Monroe County History Club at Monroe library, 26 March 2019, https://www.youtube.com/watch?v=FKxPuyDdaX8